123 State Rd.
W. Bath ME 04530
207-443-6749
Photo Gallery - Custom Kitchens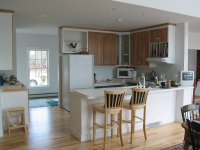 Custom Cabinets..........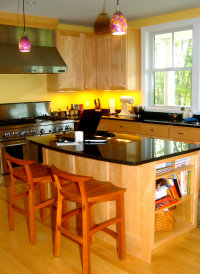 Lets face it..... In most homes. the kitchen is the hub of activity. So if you're going to build your dream home, or are just tired of having to ask uncle Fred to move when you need to pull the roast out of the oven, why not let the pros at Frohmiller help you design the kitchen of your dreams!!
We have a huge selection of quality factory made cabinets available, or we can custom build each piece to fit your own individual needs and lifestyle.
Either way, you'll have plenty of room to do what you gotta do, and uncle Fred will have plenty of room to watch!
Please click on any of the photos at
right to see some great kitchens and a
grreat renovation from start to "wow".
Complete Renovations.....